Grandma Brown turns 90 this year, so we had a reunion to celebrate. Most of her gigantous posterity was there. It was a fun party and a good reunion.
My mom used some of Grandma's old dishes for centerpieces. She put a card with each dish, telling where Grandma originally got it. Each grandchild got to take a centerpiece home. Here is one. (The flash completely ruined the picture, but oh well. That's just what you get).
This is the dish I got to take home. Isn't it so pretty? It belonged to my Grandpa Brown's mother- my dad's grandmother and my great grandmother.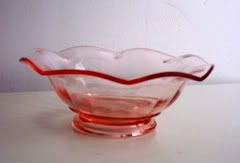 Lydia had fun hanging out with Daddy while I tracked down the old-timers to get stories about my Grandpa Brown, who I never met.
Here is our little family with Grandma Brown. We're either not looking at the camera or we're scowling at the camera. Oh well.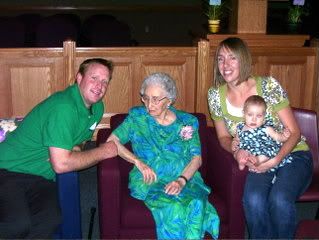 I thought this picture was precious. Lydia probably won't have many memories of Great Grandma Brown, so I'm really happy to have such a sweet picture of their first introduction!